Cookie use policy
In compliance with article 22.2 of Law 34/2002, on Information Society Services, we inform users of our website of our Cookies Policy.
What is a Cookie?
Cookies are files containing small amounts of information that are downloaded to the user's device used when visiting our website. Its main purpose is to recognize the user (by means of identifiers that do not allow them to be identified with any natural person) each time they access the website and also allows us to improve the quality and usability of our websites. Cookies are essential for the Internet to function; they cannot damage the user's equipment/device and, if they are activated in your browser's configuration, they help us to identify and resolve possible malfunctions of our website.
Types of Cookies
There are different types of cookies. They all work the same way, but they have small differences:
Session Cookies: Session cookies last only for the duration of the visit and are deleted when the user closes the browser. Its main purpose is to identify the type of device, support website security or its basic functionality. They do not contain personal information that identifies a person.
Persistent or Permanent Cookies: They are stored on the device's hard drive and are read by the website each time the user makes a new visit to the website; They have a specific expiration or expiration date, after which the cookie stops working. They allow to identify the actions and preferences of the user; analyze visits and help understand how users arrive at the website and improve the services offered by it.
Functionality Cookies: They allow decisions made by the user to be remembered, such as their login or identifier. The information in these cookies is anonymous (that is, it does not contain name, address, or other personal data).
Third Party Cookies: Third party cookies are cookies installed by a website that is not the one the user is visiting; for example, those used by social networks (such as Facebook) or by external content plugins (such as Google Maps).
Analytical Cookies: These are cookies whose purpose is periodic maintenance and to guarantee the best functioning and service to the user; collecting data on your activity.
Use of Cookies by Hotel Bon Repòs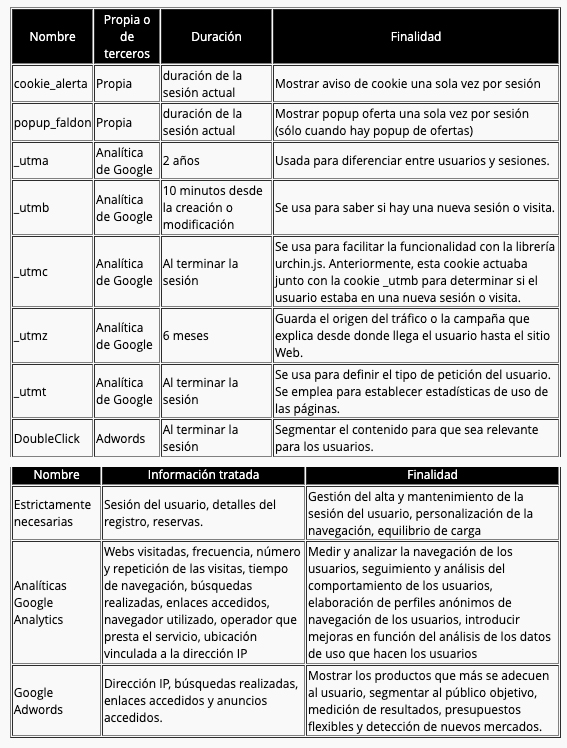 By accessing our website, the user expressly accepts that we can use this type of cookies on their devices. However, if you disable cookies, it will not affect navigation on our websites.
User configuration to prevent Cookies
By browsing and continuing on our website you will be consenting to the use of cookies under the conditions contained in this "Cookies Policy". Hotel Bon Repos provides access to this "Cookies Policy" at the time of access for the first time, with the aim that the user is informed, and without prejudice to the fact that he can exercise his right to block, delete and reject the use of cookies at all times.
In any case, we inform you that cookies that are not necessary for the use of our website, can be blocked or disabled by activating the configuration of your browser, which allows you to refuse the installation of all cookies or some of them. Most browsers allow you to warn of the presence of cookies or reject them automatically. If you reject them, you can continue to use our Website, although the use of some of its services may be limited and therefore your experience on our website less satisfactory.
Information about how to configure your browser or Internet browsers to maintain your privacy and security in relation to cookies can be consulted on the official support sites of the main browsers. With these aids, the user can block cookies through the browser's configuration tools or configure it to warn him when a server wants to save a cookie.
Contact Information
Any questions or queries about this policy of use of cookies can be sent to us in writing to the following email address: reservas@hotelbonrepos.net